Kickstarter Campaign FAQ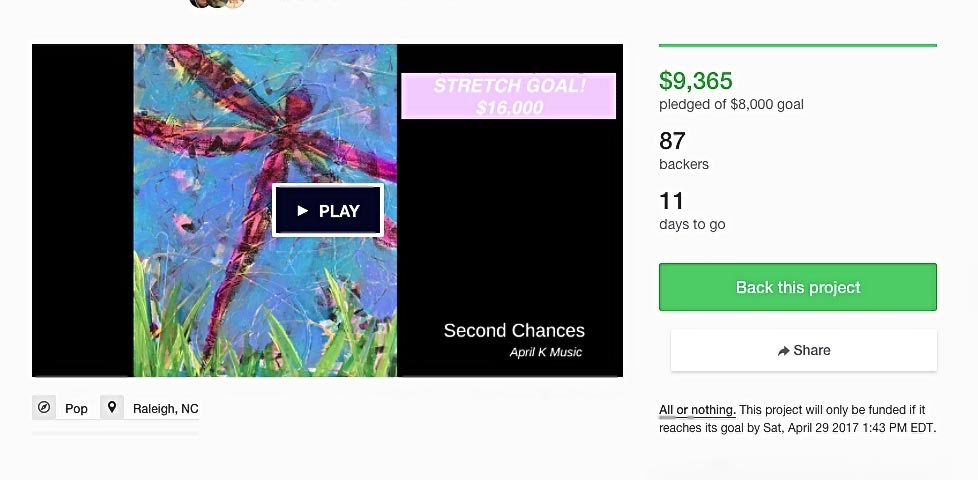 So what is Kickstarter, anyway?
Kickstarter is a "crowdfunding" website for new businesses, musicians, artists, and anyone with a great idea to help get funding for their startup. The person seeking funding pitches their idea to the public. The public contributes by pledging to buy the service or product after the campaign ends.
This has given the power back to singer-songwriters like April K. For decades, it was up to record labels, music publishers, and managers to build an artist's career, but in today's world, it's all about the artist building their own fanbase. In yesterday's world, major artists ended up in debt for most of their careers… but with April's crowdfunding campaign, she's able to release her first album debt-free, and offer rewards to her contributors that go far beyond what any record label would provide (such as co-writing on a song, which was unheard of before crowdfunding became popular!).
If you search around Kickstarter, you'll see a lot of other business ideas launching there… restaurants and food trucks are a popular campaign, since they can fund their opening without going into debt with a bank. And video game designers are using crowdfunding to launch new games, covering their development costs and marketing.
Why should I contribute? Can't I just stream this on Spotify when it's released?
April's
Second Chances
album will be available on streaming services after it's regular release. The Kickstarter release will happen long before that. And, the Kickstarter campaign includes a variety of very cool reward packages that go above and beyond what streaming offers. We've highlighted some of the reward packages below, but one of the greatest rewards is that YOU are able to be in the trenches with April as finishes her project instead of just listening to it when it's done.
Reward Packages or 'Thank You' gifts for contributing to the campaign include:
• A signed CD.
• Posters, coffee mugs and t-shirts.
• A beautiful book of song lyrics and artwork from different graphic artists based on each song.
• An invite to attend April's album release party in Raleigh NC to celebrate the early Kickstarter release of the album.
• A custom song of your choice recorded and produced by April and her producer,
Kevin McNoldy
.
• The chance to co-write a song for the album!
Okay, I'm in… how do I contribute?
Simply head over to
April's campaign
, and click "Back This Project" on the right-hand side. Choose your reward contribution level, which ranges from $1 for a single song download, to $1000 for co-writing a song. Once Kickstarter takes your credit card information, nothing happens until the campaign ends. At that point, your contribution amount will be charged, and April's project will be funded.
Here's the great news! She's already reached her initial goal of $8000 for this first album project, so your rewards will ship on or before August 14th, 2017. Since there's still time left in the campaign, April set a "stretch goal" of an additional $8000 to fund a second album project. If that stretch goal is reached by April 29th, 2017, you'll actually receive your first album rewards package as planned, and then a second album in 2018 (for no extra contribution on your part! It's two albums for the price of one if the goal is reached).
I thought the campaign was over since April reached the goal after 3 days. Is it still going?
Yes it is!
The campaign doesn't end until April 29th, 2017.
Until that time, every additional contribution brings April closer to reaching her stretch goal, and if that is achieved, every contributor will receive her first album (and their rewards package) on or before August 14th, 2017… and a second album in 2018!
You don't need to contribute again if you already have… but sharing the campaign can make a huge difference! It's a numbers game now… and April needs to get in front of enough people to end up with the right amount of contributions to achieve her new stretch goal. So, the more you share, the better chance she has, and the more likely you'll get a second album of her songs!
Where do I share it?
Anywhere and everywhere! Online is ideal… Facebook, Twitter, Instagram, Pinterest, Google Plus, YouTube, LinkedIn, via email, and any other social media websites you are part of. Facebook, in particular, has brought in 60% of the contributions so far… so share in Facebook Groups you belong to, on your own Facebook feed, or by messaging any friends who would find April's story interesting.
A share is just as vital as a contribution, since it can get the campaign in front of thousands of new people. If you feel uncomfortable sharing the campaign because it feels too "spammy," remember that you can always share one of her lyric videos, and the viewer will hear her music, and see the campaign information in the video's text information field. So go with whatever works for you—it doesn't need to come across as a sales pitch if that doesn't feel right.
THANK YOU for your help, and THANK YOU for getting April to the initial goal within 3 days! There are 2 weeks left in the campaign so, REMEMBER,
it's not over until April 29th
! We appreciate any help you can provide with sharing and getting the word out there! If we make the stretch goal, it will be because of your help as April's "ambassadors." Spread the word!